Atiye Laçin Gıda has an assertive commitment to its quality. In order to produce high quality products, it takes care to maintain its quality by selecting its raw materials from reliable suppliers who sell only the best quality products. Fulfilling the requirements of quality management systems; constantly improving its effectiveness. Thus, it can control every step of the product journey until it reaches its customers.
BRC Global Food Standards is a leading safety and quality certification program. BRC Food was founded in 1996 by the British Retail Consortium, which wanted to regulate food safety standards within the supply chain in response to the needs of the industry, and the first version of the standard, which was prepared with food industry experts, was published in 1998. Standards; It guarantees the standardization of quality, safety and operational criteria and ensures that manufacturers fulfill their legal obligations and provide protection for the end consumer. Worldwide auditing is carried out by a global network of experienced auditors. The audit system is also carried out with a standardized and controlled standard.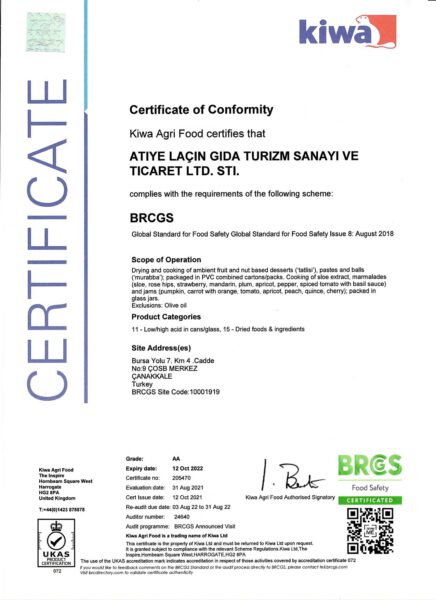 FDA Certificate, affiliated with the United States Department of Health; is a bureau responsible for dietary supplements, food, drugs, blood products, biological medical products, radiation-emitting devices, medical devices, veterinary instruments and cosmetics. FDA Certificate, All domestic and foreign facilities that carry out or hold the production of food, food processing, packaging of food for human or animal consumption in the United States are required to register the FDA Certificate.
Halal (meaning legal and legal.) A term that indicates that, according to Islamic law, the user is allowed for any object, action or occupation. The term is used to denote foods that are permitted under Islamic law. Food and Necessary Substances Inspection and Certification Research Association and the Economic Business Institution GIMDES Halal Products Research Institute affiliated to this association is a non-governmental organization established to research and certify halal and healthy products that we believe are the basic elements of healthy life in our country. It covers food, cosmetics and health products as a field of interest.